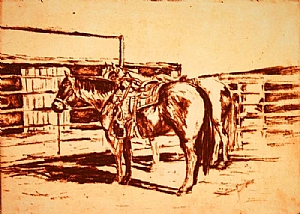 The Solar Etching Process
The process of solar etching uses a steel plate covered with a light sensitized polymer material. The plate is created by placing a transparency on the plate and exposing it to the sun. It is then developed in water. When the plate is finished it is hand inked and wiped, leaving ink in the areas etched by the sun. A high quality, acid-free paper is applied to the plate and they are run through a flatbed press where the pressure causes the ink to be transferred to the paper creating a mirror-image print of the worked plate. The etchings are signed and numbered with the impression number over the total number in the edition. Editions are limited because repeated printing wears down the plate surface. The etching may be hand colored with watercolor.
It is now considered the 'green' way to create an etching. No acids are used to etch the plate. Once the plate is created, the steps of inking, wiping, hand-pulling and hand-coloring are the same. As with traditional metal plates, they wear with use, therefore the edition must be limited.
So every print is a hand pulled original.